HELCOM TRADE d.o.o. Varazdin is a company registered for production, trade and services. Our main business is distribution and sales of paints and varnishes for professional and personal use. Since 1992, we have been providing customers with quality and efficient solutions for the protection and decoration of wood, metal, concrete, interior and exterior walls and facades; special coatings for personal and commercial vehicles and tools and accessories for professional painters, car-refinishers and bodyshops.
HELCOM TRADE d.o.o. was founded as family company at 28th January 1992. The company is a regional distributor of chemical industry HELIOS TBLUS Slovenia and we distribute HELIOS products in the Northwestern and Eastern parts of Croatia.
The founder and the owner of HELCOM TRADE company is Mr Izidor Jurisa, oecc and since 2010, the director of the company is his daughter Martina Jurisa, univ.crim. The company employs 37 people and has its own warehouses and freight vehicles in service of wholesale and distribution, but it also has its own seven highly specialized retail shops.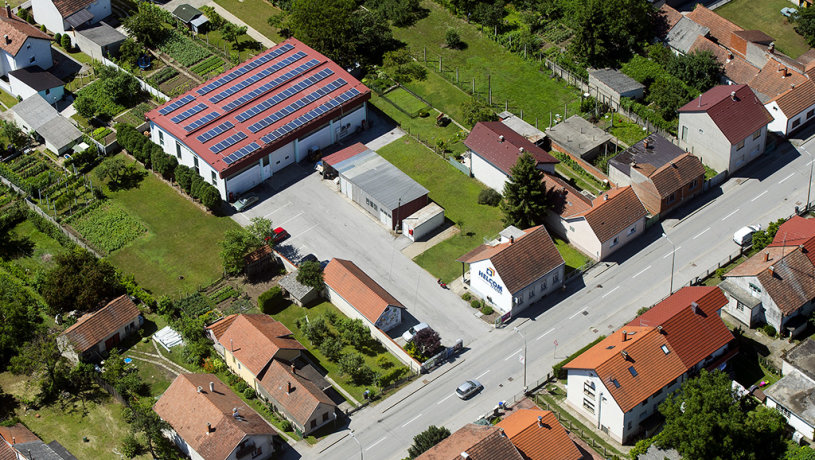 The head office of HELCOM TRADE company is located in Varaždin, Gospodarska ulica 40 and there are also wholesale, retail management, accounting and finance department, commercial and logistics department, high-volume wholesale warehouse, mixing machine for industrial coatings, semi-automatic pneumatic filling machine for making sprays and specialized retail shop.
All of our retail shops are highly specialised in sales of paints, stains, varishes, assocciated tools and accessories. All of them are equipped with mixing systems for tinting coatings used in the interior and exterior design; as well as a mixing system for car-refinishes, which products can also be filled into sprays, accordingly to the customers needs.
Our professional and friendly staff will be happy to assist you with selecting the most suitable material for insuring the high quality and effective protection of desired surfaces, as well as recomend to you the right technique for achieving the best results when decorating your home.